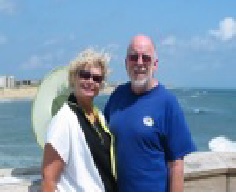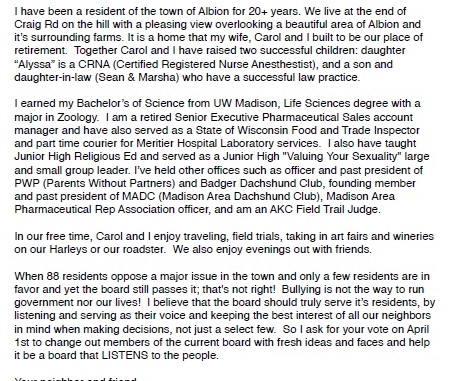 On APRIL 1st 2014, WITH ONLY 4 DAYS OF GRASSROOTS CAMPAIGNING, RUNNING AS WRITE IN'S WITH LESS THAN A DOZEN SIGNS, OUR CANDIDATES ALMOST UNSEATED 2 BOARD MEMBERS .

VOTER TURN OUT WAS HUGE. IT IS CLEAR THAT ALBION IS READY FOR A CHANGE TO A BOARD WITH MEMBERS THAT WILL LISTEN TO THE CITIZENS OF ALBION! On APRIL 7, 2015 THEY RAN AGAIN AND UNSEATED RADEMACHER AND CUSICK! ALBION IS BACK ON IT"S WAY TO HONEST GOVERNMENT AGAIN! JEFF LEHNHERR WON ON APRIL 5, 2016 TO UNSEAT BRUCE HUDSON AND ENDED THE BIAS BOARD! ABIGAIL STAFF AND PAT TESAR ARE RUNNING AGAIN TO KEEP BOARD MEMBERS THAT IGNORED ALBION CITIZENS AND STILL SUPPORT A QUARRY NEXT TO OUR WETLANDS AND HOMES OFF THE BOARD! WE APPRECIATE THE VOTERS THAT TURNED OUT TO SUPPORT A CHANGE IN ALBION, PLEASE CONTACT THESE MEMBERS WITH YOUR CONCERNS FOR THE NEXT ELECTION. WE CAN KEEP FAIR REPRESENTATION FOR ALL ALBION RESIDENTS!

Abigail is a lifelong Albion resident who thinks it's time for a change. She will listen to her neighbors, she will stand for the rights of small farmers, and she will stand for the rights of nature.

  "Ever since my family homesteaded near Maple Grove Rd in the 1840's my family has poured their heart and soul into their little slices of Albion township.

  My grandfather taught me the beauty of conservation, leaving nearly all of his 15 acres of his property on

Edgerton Rd as oak savannah and prairie habitat for wildlife.

  My father spent the last 35 years of his life planting trees on our 5 acre parcel on highway 51, growing it slowly from my great grandparent's completely barren cow pasture into a full pine thicket and orchard. 

  This is a legacy that I will someday pass on to my family. I want this life to be here for my children, and I want them to have the opportunity I had to grow up in a peaceful town where people respected their neighbors and stood up for what was right." 





VOTE TUESDAY APRIL 4, 2017! STOP HUDSON AND WESTBY FROM TAKING FAIRNESS AWAY FROM ALBION!

VOTED IN APRIL 5th 2016!

Jeff LEHNHERR  Town of Albion Supervisor

to keep Albion MOVING FORWARD!

• Continue and encourage public involvement in town decision making

• Solicit opinions and listen to the concerns from the citizens of Albion

• Honesty and Fairness for ALL Albion Citizens

• Protect our rural lifestyle, our homes and our farms

• Spend time really investigating town issues vs. just passing them through

• Improve enforcement of current town ordinances

• Common sense use of Agriculture Resources and support Farmland Preservation

• Implement quarterly treasurer reports to better control tax payer expenses

• Regularly attend community and government meetings (Fire District, DOT, Dane County Towns Assoc., Silverwood Park) to stay informed of local issues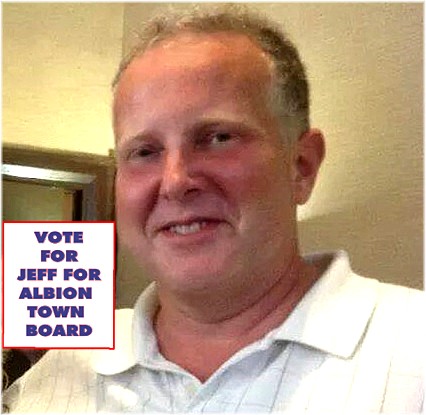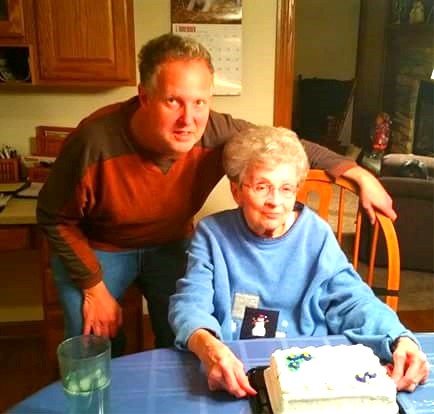 I moved to Albion 11 years ago from Madison to escape the city life and enjoy the peaceful rural lifestyle that Albion has to offer.

I worked for almost 30 years for a large restaurant chain as a multi-unit Area Supervisor responsible for interviewing, hiring, coaching, developing up to 250 employees as well as monthly and annual budgeting, opening new restaurants, controlling expenses to ensure financial goals were achieved.

Albion is now my Forever Home in the country.

I believe in OPEN and HONEST government with FAIRNESS FOR ALL CITIZENS!

jeff4albion@gmail.com • (608) 436-3808

_____MEET JEFF LEHNHERR____